If you're new here, you may want to subscribe to my RSS feed. Thanks for visiting!
SaleHoo Launches SaleHoo Stores: Quick, Clean Stores that Get Results!
The team at SaleHoo.com, the same people behind the wholesale supplier directory with over 8,000 verified suppliers, have just released SaleHoo Stores, their new e-Commerce solution that can get you up and running on your own website in just minutes.
If you are looking to expand your online selling ventures beyond eBay, or have ever thought about selling on your own website, then here are three reasons why you should give it a try:
1. It's quick to setup. With SaleHoo Stores, there is no time wasted spent fussing over technical details. You can setup your store in just minutes and get your products online and ready for buyers in no time.
I understand that A LOT of e-Commerce solution providers say the exact same thing, but the guys at SaleHoo actually mean it. To prove just how fast it is, they have made this short 5 minute video on setting up your SaleHoo Store.
Take a look at it below:
2. SaleHoo Stores are clean and modern. Forget ugly e-Commerce websites with unsightly fonts and difficult navigation. SaleHoo Stores were built by web usability experts who study how web users interact with websites, then create websites and web stores that mimic that behavior.
This results in websites that are more intuitive and natural for users, which makes them stay on your site longer, and purchase more items from you.
Another great thing about SaleHoo Stores is that you can choose from a number of Store themes to make your Store stand out and attract the right audience. Here are a couple of examples of themes you can use: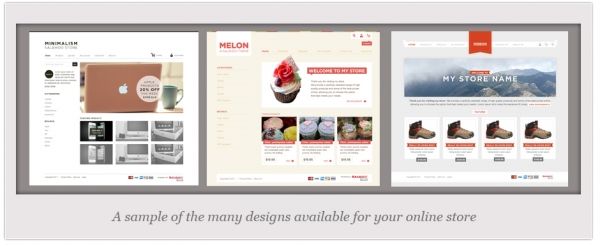 Best of all, changing your SaleHoo Store's theme and color variations is fast and easy. With just two clicks of a mouse, you can instantly update your Store with no technical knowledge required.
3. SaleHoo Stores get results! For all website owners, getting sufficient traffic to your site is a crucial determining factor in whether or not your store will be a success. With this in mind, SaleHoo Stores come optimized for search engines with their search-engine-friendly development and page order.
What's more, setting your on-page optimization is easy. There is no fussy HTML coding involved – it's as easy as writing an eBay listing title!
Right now, when you sign up to SaleHoo Stores, you will get a FREE video training course on search engine optimization called SaleHoo Stores Traffic Training. This course has been crafted by SEO expert Mark Ling who shows you everything you need to know, with step-by-step instructions, how to get your website ranking on the first page of Google and turbo boost your sales!
Special limited time offer!
In addition to your free copy of SaleHoo Stores Traffic Training, right now you can also get your hands on a free one-year membership to SaleHoo! Your SaleHoo membership gives you instant, unlimited access to their directory of over 8,000 verified, legitimate suppliers as well as the SaleHoo Research Lab, a market research tool that allows you to unearth hot selling markets. A SaleHoo membership normally costs $67 per year, but it's yours free, for a limited time, when you purchase sign up to SaleHoo Stores.
And as if that wasn't exceptional value enough, SaleHoo is currently offering a Premium Store package at the price of a Standard SaleHoo package, making now the best time possible to get started.
Your SaleHoo Store also comes with a full 60-day money back guarantee, so you can try SaleHoo Stores with no risk. If you are not completely satisfied, you can get a full refund, with no questions asked.
Head over to SaleHoo Stores now to make the most of this amazing offer!
P.S Remember you get the SaleHoo Stores Traffic Training video course FREE along with a free membership to SaleHoo and the supplier directory!
P.P.S The 60 day money back guarantee makes SaleHoo Stores the low-risk option for getting your very own store setup!
If you enjoyed this post, make sure you subscribe to my RSS feed!